I'm a native Floridian and have traveled extensively but believe it or not I had never visited St. Augustine before our recent road trip. Boy did I wish I had seen this charming city sooner! With over 60 historic sites, attractions and museums, miles of beautiful beaches and a fantastic food scene we found it to be an ideal destination for a family vacation.
St. Augustine is located on the Atlantic coast of Northeastern Florida just a relatively short drive from both Orlando and Jacksonville. Known as the nation's oldest city, it has been continually occupied since it was founded by the Spanish in 1565. St. Augustine has fought off pirates, housed past Presidents, withstood hurricanes and served as a playground for the world's most privileged elite. All this has added to a rich and varied heritage. The mild climate allows for plenty of time to enjoy the outdoors and its relatively compact size and accessibility makes it easy to get around on foot or to hop aboard the carriages and trolleys that cater to tourists.

We spent several days exploring St. Augustine with our kids and really got a great sense of the most enriching experiences for families and attractions that make the past the city's history come alive. Here are some of our recommendations for the best things to doA in St. Augustine with kids to help you plan your next trip.

Disclosure – Any and all opinions expressed are that of Mom Abroad. No compensation was received for this post. However please note that some of the links in this post are affiliate links. Meaning, at no additional cost to you, I will earn a small commission if you click through and make a purchase using the link. I truly appreciate your support!


What to do in St. Augustine With Kids:


Trolley Tour


I highly recommend that your first stop when visiting St. Augustine with kids is at one of the open-air sightseeing trolley depots that offer free parking. There are two main trolley companies offering fun, fully narrated tours of St. Augustine; The Red Train operated by Ripley's Believe It or Not! and Old Time Trolley Tours.

Both tours take 80-90 minutes if you stay on board for the entire loop. What makes these tours extremely convenient though is that they offer unlimited hop-on hop-off privileges. This allows you to get on and off the trolley as many times a day as you would like at any of the dozens of trolley stops throughout the city, including all the places listed in this article.

With so much to see and do in St. Augustine the trolley was the perfect way to get around while enjoying an excellent overview of all the historic sites. We learned so much just from riding from one attraction to another. And the best part was it kept my kid's legs from getting too tired throughout the day. We extended our trolley ticket for a second day for a nominal fee and it was a lifesaver! I can't imagine how we would have seen everything we did without it.
What's more, you can bundle in other attractions with your trolley ticket for substantial savings. It was so nice to have all our tickets taken care of at once. We were able to enter each attraction we wanted to visit without having to make another purchase. At one point when it rained, they even provided everyone with ponchos! Such a great value!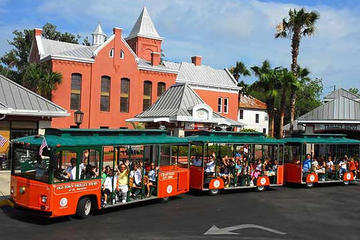 St Augustine Hop-On Hop-Off Trolley Tour


The St. Augustine History Museum


The St. Augustine History Museum is a combination if historical displays and private collections that bring over 400 years of Florida history to life. You can visit the Spanish sunken treasure room, a Timucan Indian Village and a Cracker trading post. My kids got a kick out of trying to pick up a bar of gold (its heavier than you think!) and playing old games in the penny arcade. The model train… Admission to this museum is included with all Old Town Trolley Tour packages.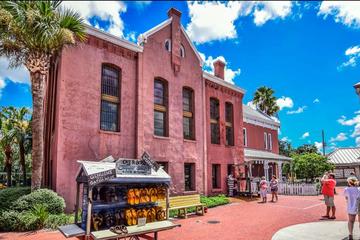 St. Augustine History Museum Admission


Fountain of Youth Archaeological Park


You simply you can't visit St. Augustine with kids without taking them to the Fountain of Youth Archaeological Park. The 15-acre water-front park is a site of significant national historic importance. It was here that St. Augustine was founded by Pedro Menendez 55 years before the pilgrims landed at Plymouth rock and 42 years before Jamestown was colonized. Long before that it was the home of the Timucuan Indians.
You can experience all these chapters in St. Augustine's history reconstructed here. From the replica of the Native American village of Seloy and ancient burial grounds to the1587 Mission Church of Nombre de Dios, the first Christian church built in America. You also won't want to miss the working blacksmith shop or the daily canon firing and crossbow demonstration.
However, it's the Spring of Eternal Hope that's been flowing for centuries and said to hold the powers of perpetual youth that has made the park the most popular tourist attraction in the city and, also the oldest with guest books dating back to the 1960's. You can drink the same waters tasted by Ponce de Leon when he arrived in 1513 for yourself. But be warned: the high mineral content that may be responsible for its youth promoting properties give it a unique taste.
Other highlights of the park include the 600-foot-long Founder's Riverwalk, watch tower and Discovery Globe Planetarium. Our kids also loved the exotic peacocks that roam the grounds. Almost everything in the park allows for hands on exploration. It's hard not to be awed by over 500 years of history that surrounds you.
Flagler College


The real show-stopper of St. Augustine's Historic District is Flagler College. This private liberal-arts university was once an opulent playground for the world's most privileges elite. The Ponce de Leon Hotel which was built in 1888 by railroad baron Henry Flagler remains breathtaking as ever thanks to extensive restoration and preservation.
We enjoyed just wandering around the gorgeous campus and courtyards taking in the Spanish architecture, lush landscapes and fountains.
Walking tours are offered seven days a week during the summer months at 10:00 AM and 2:00 PM In addition to getting a peak at the grand lobby with it's 68-foot domed ceiling and the Tiffany stained glass windows and ornate murals, you also get to learn more about the fascinating history of Henry Flagler and the college that now bears his name.


The Old Jail


The Old Jail of St. Augustine was financed by Henry Flagler in 1891 so that he could control its look and location. The Queen Anne stucco style brick building is on the National Register of Historic places. You would never guess from its pleasing exterior that Flagler commissioned the same company that would eventually build Alcatraz for the project. It is one of the very few surviving incarceration facilities in Florida and the oldest building in St. John's county, where it operated for more than 60 years.
The interactive tour includes a look inside the male and female cells, maximum security as well as the kitchen, the gallows and the sheriff's living quarters where he and his family lived adjacent to 72 prisoners. What really makes this experience stand out are the costumed "inmates" that act as your tour guide telling tales of the jail and its occupants. Their first-person stories really give a great glimpse into the daily lives of St. Augustine's most notorious prisoners living under the penal system of the late 19th and early 20th centuries. It would be a crime if you missed this attraction when visiting St. Augustine with kids!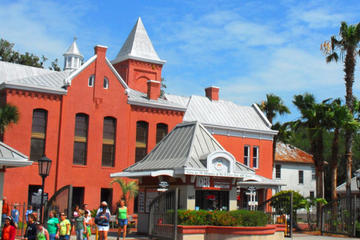 Old Jail Museum Tour in St. Augustine


Oldest Store Museum Experience


The Oldest Store Museum Experience was one of our favorite attractions in St. Augustine. Arranged to look and feel like a general store in the late 1800s you embark on a walk-through shopping experience with a costumed sales-man from the past. Along the way you are shown a plethora of "new" inventions, tonics and elixirs. My kids especially enjoyed being able to each pick out a piece of old-fashioned penny candy that was included in the tour for them as a treat.
From the front shop you head into the back of the store where a vast "inventory" of over 100,000 items from early bicycles to washing machines is on display for you as if you were a customer. It was fascinating to see how so the predecessors of so many modern appliances we still use today. It's like being able to walk into a Sears Roebuck catalog from the 1900s. Once again, the costumed guides giving the tours were fantastic and really took the time interact with my kids while staying in character making it another truly entertaining and educational experience.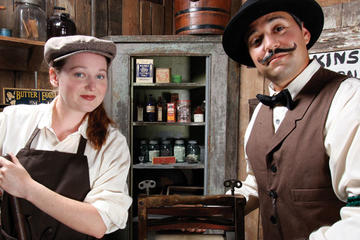 Oldest Store Museum Experience in St. Augustine
Castillo de San Marcos


The Castillo de San Marcos rises prominently along the western shore of Matanzas Bay directly across from the heart of the historic district. Completed by the Spanish in 1695 to protect their treasure fleets from the British and pirates, this national monument is considered the oldest masonry fort in America.
The thick stone walls are made from coquina, rock made from compressed seashells found along the coast. There is a great view of the water from the top level, so have your camera's ready! You'll find many beautifully detailed cannons as well as other weapons on display. I also recommend trying to time your visit to see one of the daily demonstrations by reenactors dressed in period costumes and speaking Spanish. Just be sure to cover kids ears for the canon firing! It is awesome to watch but very loud!
Displays on the lower levels depict what everyday life was like for the soldiers who lived and worked in the fort and the many historically significant events took place here. The Fort is toured completely at your own pace so there's no need to rush through for the next group that comes alone. Just make sure to put this early in the day on your itinerary as it typically closes at 5:00 PM and can get quite hot in the afternoon. Since the Castillo de San Marcos is ran by the National Park service kids are welcome to partake in the national Junior Ranger program and earn a badge while visiting the fort.
St. George Street – Historic District


Across the street from the Castillo de San Marcos is the is the 144-block historic downtown area of St. Augustine. St. George Street is the main thoroughfare which runs south from the city gate through the center of the district. This Cobblestone pedestrian-only street is lined with local shops, restaurants, ice-cream parlors, pubs, galleries and gift shops. I suggest getting off one of the Trolleys near the Old City Gates and strolling from one end to the other.
Many of the buildings stay true to their historic beginnings, with wooden signs hanging from above the doors and charming courtyards where you can dine outdoors. You will truly feel like you have been transported back in time. The street becomes busier as the sun goes down and on weekends so if you'd like a less crowded experience head there in the morning or early afternoon. We found that the hustle and bustle though was part of what made the street so unique and interesting. Just make sure you bring your wallet and your appetite!
Old City Gates


At the edge of the historic district of St. Augustine sit two enormous pillars, which at one time framed a door marking the entrance to the Old City. When the Spanish walled St. Augustine in the 1700s this gate was the only way in and out of the city and served as the main means to protect it. These coquina stone pillars opening onto the norther part of St. George Street are some of the last evidence of that history. This is a fun stop for a photo op and to imagine what it might have been like to pass through this gate to enter the city just like people did many years go.


Pirate and Treasure Museum


The Pirate and Treasure Museum transports you back in time to the Golden Age of Piracy. My crew will tell you, it is an absolute must-do attraction with kids, and easily our favorite museum we experienced. Each room is exceptionally well done, making us feel like we were on an actual pirate ship as we took in the over 600 authentic artifacts and treasures on display including one of only three surviving original jolly roger flags on display and the only real pirate chest left in the world.
A treasure hunt, complete with map, engages kids in the entire experience. They are even rewarded with "treasure" for successfully collecting clues and answering questions. But that's not all that makes this attraction such fun! The Pirate and Treasure Museum features more than 20 interactive and touch screen and animatronic exhibits designed by Disney Imagineers. Which explains why this attraction feels on par with something you would experience at one of Orlando's top theme parks. Kids can fire a cannon or smell the valuable spices that were plundered along with gold. There's even a surround-sound experience telling the tale of Blackbeard's demise.
End your high-seas adventure in the amazing Hollywood Pirates exhibition and check out all the memorabilia frim movies like the Goonies and Pirates of the Caribbean. We arrived an hour before the museum closed and felt like we had the whole place to ourselves to explore. If you go earlier in the day, when it's more crowded make sure to give yourself plenty of time to see everything.

Oldest Wooden Schoolhouse


Within the downtown streets of the historic district near the City Gates you'll find the Oldest Wooden Schoolhouse. The hand-built historic wooden structure now houses a museum that offers a look into how children were educated in the 18th and 19th century.
The self-guided tour allows you to explore the one-room school house and see where the school master lived along with listening to the story of what they did each day. Kids get a kick out of all the old textbooks, school supplies and other related artifacts. You can also take a walk-through the garden area and see the separate kitchen built with no electricity or running water. Kids receive a little diploma at the end of the visit to take home as a souvenir.


The Lightner Museum


There are many museums in St. Augustine, but none are quite as unique as the Lightener Museum. Located across the street from the Ponce de Leon Hotel (now Flagler College), the Spanish Renaissance Style Revival building was originally home to the Alcazar Hotel a luxury resort built by railroad baron Henry Flagler in the late1880s to cater to his rich and famous clientele. Hobbies magazine publisher Otto Lightner purchased the Alcazar in 1946. He used the building to store his massive collection of Victorian memorabilia. Known today as Florida's "Smithsonian" the Lightner is dedicated to preserving these Gilded Age artifacts.

Now normally I wouldn't think a museum showcasing Victorian ephemera would be particularly interesting for kids but the Lightner has done a fantastic job making it an engaging experience for young ones. A specially designed Scavenger Hunt cleverly gets kids to comb the collections of costumes, furniture, scientific samples and artwork throughout the museum's three impressive floors to answer the questions and fill in their forms. Highlights for us included the curio room filled with oddities from Shrunken heads and mummies to salt and pepper shakers, the colorful Tiffany lamp collection and an area that was once part of the hotel's spa with elegant marble benches. Kids will also get a kick out listening to the antique musical demonstration and the colorful koi pond leading up to the entrance.

The Lightner Museum is also home to a truly unique dining experience. The Café Alcazar is located in what was once the deep end of the former hotel's massive swimming pool. At the time of it's construction the pool was the largest indoor pool in the world.
St. Augustine Lighthouse and Maritime Museum


Crossing the Bridge of Lions on the other side of Mantanzas Bay, a few miles from the beach you'll find the St. Augustine Lighthouse. At 126 years old, it is one of 30 lighthouses standing in Florida and one of just six open to the public. Visitors can climb the 219 steps to the top of the iconic tower to enjoy a panoramic view of the ocean, bay and city of St. Augustine. There is a height minimum of 44" to climb the stairs to the top of the lighthouse. This is due to the height of the railing going up and for safety reasons. However, those with shorter kids can switch off climbing while kids enjoy the cool shipyard playground.
You can also check out the recently restored 1876 Keepers' House and check out the Maritime Museum displaying artifacts and recent archeological discoveries. There is yet another great scavenger hunt here for kids to complete as well as nature trails to explore along with guided archeology and ghost tours. You'll want to check the times for those.


Ripley's Believe It Or Not! Museum


The Warden Castle was built in 1887 as the winter residence of William Grey Warden, friend and business partner of Henry Flagler. Robert Ripley, collector of bizarre and unusual objects frequently visited the castle when it was a hotel. He died in 1949 without realizing his dream of owning the property but after his death his family purchased the Warden Castle Hotel from Pulitzer prize winning author Majorie Kinnan Rawlings. The beautifully restored, Moorish Revival Style mansion became the first permanent home to Ripley's collection and the first of the 36 Ripley's Believe It or Not! museums in the world when it opened in 1950.

Today you'll find three floors are filled with more than 800 exhibits of extraordinary items collected by Ripley himself. Kids can spend hours exploring the interactive galleries chock full of mystical treasures, international oddities and exotic art forms that inspired the hit TV show. Prepare to be amazed!


Potter's Wax Museum


Another quick but worthwhile stop is Potter's Wax Museum. Opening in 1947 Potter's was the first museum of its kind in the United States. Today the museum boasts over 160 wax figures among its ever-changing display including a large celebrity collection and historic figures. My kids had a great time taking pictures with the life-like….
We also learned quite a about all these fascinating people from the well-researched biographical info plaques located near each figure. We felt like we got quite the World history lesson in our short visit.

The Colonial Quarter


The Colonial Quarter is a two-acre living history museum located in the historic district. Created with the help of University of Florida historians, the area features, artisan shops, blacksmith and military demonstrations, a 35-foot watchtower and restaurants that immerse you in three centuries of Spanish colonial life.
There Colonial Quarter is comprised of four different sections – 16th century Spanish first city, 17th century Spanish fortified town, 18th century Spanish garrison town and 18th century British colony. Guides dressed in period costume lead you through each section that has different exhibits allowing you to see and experience how citizens of St. Augustine lived, worked and played while defending against attack. You'll learn how to fire a musket to protect the English settlement, make nails to fix the Spanish ships, and differentiate between the various flags that have flown over this storied town. The whole site is like an interactive journey through the history of St. Augustine.
After immersing yourself in history, pick one of the two fantastic restaurants on the property. Your entry ticket to the Colonial Quarter gives you a nice discount at the eateries. We loved the Chicken Pot pie at the Bull and Crown Publik House.
St. Augustine Alligator Farm Zoological Park


If your kids have had their fill of historical exhibits and museums head on over to the St. Augustine Alligator Farm Zoological Park. The name is a little misleading as the park is actually an accredited zoo. One of the oldest in the country in fact as it was founded in 1893 –I guess you can't really get away from history in St. Augustine. You'll find exhibits, shows and activities featuring an array of animals. In addition to every species of crocodile in the world you will also find alligators, monkeys, lemurs, birds tortoises and various other reptiles.
Kids love the live feedings at the lagoon. If that's not exciting enough there's also a ropes course and zipline attraction called Crocodile Crossing with live alligators and crocodiles right underneath you.


The Beach!


Last, but definitely not least, a coastal Florida family vacation wouldn't be complete without hitting the beach! The beaches in St. Augustine are consistently rated among the best in the world. With 42 miles of shoreline to discover you are sure to find the perfect place to relax and unwind with your family. Crecent Beach, Vilano Beach, Ponte Vedra and St. Anastasia State. Park are favorites among locals. I recommend going later in the day to skip the hot sun and the sunburn that goes with it! We hit the waves in the golden hour before sunset and loved playing in the gentle surf and sand and enjoying the sea breeze.
Where to Eat in St. Augustine with Kids:

Dining options in St. Augustine are plentiful and varied with most being locally owned and independent. There are many casual options for families serving up heritage inspired dishes, fresh local produce and seafood and lots of kid friendly fare sure to please even the pickiest eaters. A few of our of family favorites follow:


The Columbia Restaurant


We loved visiting the original Columbia Restaurant location in Ybor City when we went to Tampa so much we knew this sister property in St. Augustine was a must on our itinerary. Located on St. George Street right in the heart of the historic district and serving up the same delicious Spanish-Cuban cuisine, the Columbia here doesn't disappoint.
I recommend making reservations ahead of time or hitting the eatery for an early lunch as the place gets packed, especially at dinner. Something to keep in mind when dining with kids, but the phenomenal food is well worth it. Our kids loved the complimentary crusty warm Cuban bread. We are also big fans of the roasted pork, plantains, empanadas and of course it wouldn't be an authentic Cuban meal without a helping of black beans and rice. Go ahead and splurge on the delicious desserts. The flan is a favorite and the guava filled puff pastry is perfection!
Ask to sit in the large two-story enclosed courtyard know as "El Patio". Take some time after your meal to wander around the unique dining rooms and see the colorful accents, fountains and chandeliers throughout.


Hyppo Gourmet Ice Pops


You simply have to have a Hyppo Gourmet Ice Pop while you are in St. Augustine. These popsicles are amazing! Lots of fruit and lots of fun flavors you can't find anywhere else. The hardest part will be deciding which flavor to try. You may need to come back for a second visit. We went back more than once they were that good. I'm stilled dreaming about the Pistachio flavored one.

Hyppo's has several locations throughout the downtown St. Augustine area with over 450 flavors of all natural popsicles, everything from Banana Bread to Nutella (my son's favorite) to Rum Raisin. They only use fresh fruit and since they're so healthy, you can eat more than just one!
Where to Stay in St. Augustine with Kids:


As a tourism driven town St. Augustine has plenty of options for family lodging. From small boutique style properties, chain hotels, Airbnbs and even RV parks there's something at every price point.
It's worth noting that the hotels near I-95 are about 5 miles from the downtown area where the vast majority of the attractions you'll want to visit are located. I'd recommend that you spend the money, if you can, to get a centrally located hotel. St. Augustine is an extremely walkable city. Even if you make use of the trolley its nice to stay a hotel that has a trolley stop nearby. This saves you the hassle of finding parking and paying fees. The parking fees could very likely equal the difference between staying in town or further afield. If you are looking to save money, I recommend visiting in the winter months as the prices for accommodations will be lower.


Our Take on St. Augustine with Kids:


Hopefully this gives you an idea of some of the best things to do in St. Augustine with kids.
We could easily go back and spend a full few weeks checking out all the other historical and recreational activities of Florida's Historic Coast. I would lean towards booking more days than you think you may need to see this city. That said, the great thing about St. Augustine attractions is that they aren't huge. You can easily see several attractions in one day. If you are only visiting for a weekend you can still fit tons of fun things to do into your trip. Our family will surely be visiting again soon!


Want More Travel Goodness?

Subscribe to Mom Abroad to get the latest updates, giveaways, helpful travel tips right to your in-box! And join us on Facebook for regular updates and related articles and on Instagram to see what we are up to in photos.
Thanks for reading! If you enjoyed this article, please save it to Pinterest by clicking the 'P' button on any image.