Savannah is known for its antebellum architecture, beautiful parks, horse-drawn carriages and its stately oak trees, draped in Spanish moss. It's the kind of idyllic place that beckons for a romantic weekend or grown-ups' getaway but you might be asking yourself what is there to do in Savannah with kids?
The answer is quite a lot!
After spending three and a half days touring this charming city with our children and their grandparents, we found tons to do for the whole family to enjoy! From iconic historic sites and tours to fantastic food and cultural attractions our well-timed itinerary was a winner! I'll save you the trouble of planning and research and loop you in on all the cool things we did in Savannah with kids.
Disclosure – Any and all opinions expressed are that of Mom Abroad. No compensation was received for this post. However please note that some of the links in this post are affiliate links. Meaning, at no additional cost to you, I will earn a small commission if you click through and make a purchase using the link. I truly appreciate your support!


Day 1


Old Savannah Tours



Savannah is such a walk-able city that you can easily get around on foot, but we are big fans of utilizing hop-on hop-off type tours wherever they are available. Not only are these tours a great way to get an overview of the history and heritage of an area, it saves little feet from tiring out too quickly. Our kids look at it like an attraction that takes you to the attractions. Naturally our first order of business in Savannah was to get our selves set up with a trolley tour company.

There are quite a few tour companies offering transportation to significant sites in Savannah including Old Town Trolley Tours the same company we loved on our recent trip to St. Augustine. This time we decided to go with Old Savannah Tours so we could enjoy the costumed historical re-en-actors that join you on the tour every few stops.

We enjoyed our tour so much we went ahead and extended it for a second day. Not only did we love using the trolley to easily get around Savannah, it was such fun to see who would join our tour next. From an always-running Forrest Gump to a scandalous Savannah socialite to a poor soul who perished in the city's yellow fever outbreak we loved listening to their lively monologues and entertaining exposition. All the renactors we enjoyed during our visit were very talented. Many of them being students at Savannah's College of Art and Design.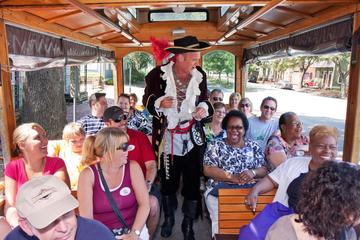 Historic Overview of Savannah Trolley Tour


Lunch at Savannah Distillery




If you arrive, as we did, right around lunch time you will want to fuel up for your sight-seeing. The Savannah Distillery Ale House is located right next to the Old Savannah Tours ticket office and across the street from the main Visitor's Center. Not only was that super convenient but the food was just the right kind of casual pub fare that hits the spot. Brian and his Dad enjoyed the huge craft beer selection on tap. With silent movies showing daily and old photos, maps and artifacts all around it was the perfect place to prepare for our Savannah adventures.



Savannah History Museum




The original passenger station of the Central of Georgia Railway now serves as the Savannah History Museum. It was a fabulous first stop in our Savannah itinerary as it gives a great overview of the city from its 1733 colonial beginnings to the present day. Exhibits highlight the city's military, musical and cultural contributions, including a locomotive engine, a Juliet Gordon Low exhibit and the famous bench from the movie Forest Gump. Battlefield Memorial Park, adjacent to the museum features a commemorative area dedicated to those who fought during the American Revolution. Musket firing demonstrations and other re-enactments are held here as well.



Georgia Railroad Museum




It was a short walk to the Georgia State Railroad Museum across the street. Transportation has played a large part in Savannah's history and this National Historic Landmark site really gives you a sense of that. It boasts the oldest and most complete Antebellum era railroad facility still in existence anywhere in the world. We toured several of the restored rail cars and locomotives. Other highlights here are the model train display and fully operational turn table.



The Pirate's House




We'd worked up an appetite again in time for a delicious dinner at The Pirate's House. Located in a historic building once used as an inn for seafarers, it's just about as cool as a dining experience for kids can get! Legend has it that Robert Louis Stevenson wrote part of Treasure Island in this very establishment and was inspired by the pirates who told tales of their adventures on the high seas over a pint of grog.

The bounty of food here is fantastic. I'm still dreaming about their signature pecan-crusted friend chicken. The kids loved their …but what was really a big hit with them was the menu itself. The menus magically turn into a pirate hat, eye patch and earring.

After dinner, we took a tour of the restaurant with a pirate guide who showed us around the 15 rambling rooms that make up the restaurant. The "Herb House" at the very center, is believed to be the oldest house in Georgia and the "dungeon" was once an entrance to one of Georgia's underground tunnels. We were also enthralled to hear about the strange and unusual hauntings that happened here.



Ghost Tour




Of course, the Pirate's House isn't the only place for paranormal activity in Savannah. The city is known to be one of the most haunted in America. As such, there are quite a few ghost tours that operate in the evening.


We chose to add the Grave Encounters Ghost Tour option to our Old Savannah Tours tickets, and it did not disappoint. Conveniently the tour picked us up right outside of the Pirate House. Just as with the daytime tour the costumed re-enactors who acted as our tour guide and those that hopped aboard for expositional monologues were fabulously talented. Our tour guide in particular was so good, that while realized she wasn't actually a long-dead nurse we had no idea she wasn't actually British until her big reveal at the end of the evening.



Old Sorrel Weed House




Our Ghost Tour also included a stop at the Sorrel Weed House, considered the "most haunted" house in Savannah. Normally a "haunted" house isn't something you can get me within a square mile of, but this was much more historical in nature than the Halloween variety. Our guide regaled us with the stories from the famous and wealthy families that lived…and died…in this grand mansion. While I'd call it spooky and eerie, we were more entertained than scared which is exactly how it should be on a tour like this with kids.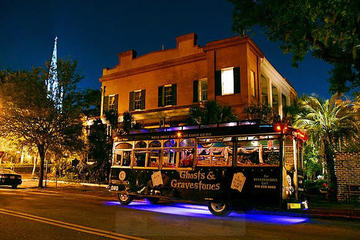 Ghosts and Gravestones of Savannah


DAY 2


Cathedral of St. John the Baptist




Our second day in Savannah started bright and early with morning mass at the Cathedral of St. John the Baptist. Our extended family is Catholic, so it was cool to experience a different kind of Sunday service than we are used to. The church itself is well worth a visit any time its open, even if it's just for a quick peak inside. The French-gothic style architecture is amazing! We were mesmerized by the hand-painted frescos, stunning stained glass and huge vaulted ceilings. It rivals many of the beautiful cathedrals we've seen in Europe and was a great way to prep our kids for seeing those in the future.


Leopold's Ice Cream




From St. John's Cathedral we walked to Leopold's Ice Cream on Broughton Street. After one bite I understood why this downtown institution almost always has a line out the door and down the block. It was, bar none, some of the best ice cream I've had in my life!

From St. John's Cathedral we walked to Leopold's Ice Cream on Broughton Street. After one bite I understood why this downtown institution almost always has a line out the door and down the block. It was, bar none, some of the best ice cream I've had in my life!
Most of the current award-winning flavors have remained the same from the original secret formulas and techniques since Leopold's was founded in 1919. I highly recommend a double scoop of the Honey Almond & Cream or the Savannah Socialite or my favorite, the Pistachio ice cream.
In addition to the delicious made-on-premises ice cream Leopold's is also a great place to grab a bite to eat. We dug into pimento cheese, and PJ & J sandwiches that hit the spot. And don't worry about that long line. It goes pretty fast.



Owens Thomas House




Next, we headed to the Owens Thomas House. Considered the crown jewel of Savannah's historic homes this is the property I'd recommend seeing if you're thinking of touring just one home. It's a wonderfully preserved example of English Regency architecture that tells the story of life in Savannah through the lens of a prominent historic home and the people that lived there.

The property includes a gorgeous garden space and its original carriage house. The carriage house is the only still-intact former slave quarters open to the public in Savannah and among the oldest in the U.S. It's a great place to get a better understanding of the history of Savannah through personal stories and interactive exhibits, including the role slavery played in Savannah's past.

Another good reason to visit the Owen-Thomas house is that it's operated by Telfair Museums, who also run the Telfair Academy and the Jepson Center. We purchased a combination ticket with access to all three museum properties at a discounted price when you bundle them together. More on the other sites in a bit.



River Street




We made our way over to River Street for a stroll along Savannah's waterfront. Although abandoned for over a century, this area was redeveloped by the city in the late seventies, and is today a lovely place to wander along the cobblestone road. The century old buildings, once cotton warehouses have been converted into quaint shops, elegant inns and enticing restaurants.

We couldn't resist the allure of free praline samples from River Street Sweets. Savannah's Oldest candy store, in operation for 40 years, they have perfected pralines, and many other delectable treats. Our kids also enjoyed the samples from Byrd's Cookie Company and the delicious honey from Savannah Bee Company while Brian and I sipped cocktails from Wet Willie's.



The Crab Shack




For dinner, we made the short drive out to Tybee Island for a memorable meal at The Crab Shack. The motto here is, "Where the elite eat in their bare feet". With a huge open deck underneath strands of twinkling lights strung between the branches of massive oak trees its rustic dining at its most relaxed and fun. The menu features a huge assortment of seafood and Georgia style barbeque. Our family dug into a massive amount of crazy good crab legs.




The fun doesn't stop there though! From the "Gator Deck" ours kids took turns feeding the alligators treats affixed to the end of a line attached to a cane pole to the 78 live baby alligators in the lagoon below. Specially trained attendants are on hand to answer questions and offer interesting gator facts. The extensive gift shop also features an array of exotic rescue birds.



DAY 3


Mrs. Wilkes Dining Room




After sleeping in and grabbing a very light breakfast at our hotel we headed to the heart of the downtown district and got in line for lunch at Mrs. Wilkes Dining Room. Now that may seem kind of crazy but let me explain.


Most Southern towns used to boast a boardinghouse where travelers could find a simple room and communal dining that offered at least two hearty meals a day. Selma Wilke opened her boardinghouse in 1943. Her modest goal was to make a living serving family style food in the downtown dining room. The food was so good, her popularity spread like wildfire and she soon had a line out the door waiting to grab a seat at her table.
There's still a line down the block to eat at Mrs. Wilkes Dining Room today. And it forms early. By the time we arrived at 9:30 am there were already a couple dozen people ahead of us. Mrs. Wilke's Dining Room is only open from 11am-2pm Monday through Friday. And they don't take reservations. So, you definitely want to make sure you're there early.

The food consists of Southern-style comfort food-favorites like black-eyed peas, mashed potatoes, baked beans, candied yams, cole slaw, mac n' cheese and piles of perfectly fried chicken. Everything is served in the center of the table where you sit with 10-12 other people, including the new friends you made outside while waiting in line.


Since this is family style, it's also all you can eat. If you have hungry teens like we do the flat fee (cash only) will seem like such a deal! Just make sure to save room for dessert! And don't' forget to clear your plate from the table at the end of your meal just like you would do at home.



Forsyth Park



We got a jump on burning off all those calories from lunch with a walk around Forsyth Park, Savannah's largest and oldest park, this sprawling 30-acre oasis is situated beside the historic district. From its beginning locals and visitors alike have flocked to Forsyth park to picnic, play, relax and enjoy the many cultural events and concerts. The famous Forsyth Fountain added in 1858 is considered the focal point of the park and makes a great photo opportunity.


Various other historic monuments and sculptures pepper the park and the Farmer's Market is a huge draw on the weekends. The park also boasts a children's spray pool and play ground, a flower garden and a number of small cafes to stop for a bite.


Telfair Academy



The Telfair Academy is the oldest public art museum in the south and the first art museum in America founded by a woman. Set in a gorgeous early 19th century mansion the museum presents a celebrated collection of fine art, decorative art and period rooms laid out as they would have been originally. The museum has come up an ingenious way to make all that interesting for kids in the form of scavenger hunt. Our kids enjoyed perusing the displays, hunting for clues while Brian and I made a point to check out the Bird Girl statue famously on the cover of the, Midnight in the Garden of Good and Evil.



Jepsen Center



Just around the corner from the Telfair Academy is its sister property the Jepsen Center. Devoted to contemporary art and traveling exhibitions the Jepsen center highlights emerging artists and definitely has a decidedly more modern feel to it. It also makes a point to be engaging for kids. Our kids enjoyed the interactive ArtZeum space where they could construct buildings with architectural blocks and magnets. The atrium also features a "Drop-In" studio space for kids to create their own art masterpieces. Each month features a special project designed to connect with a specific exhibition at the museum.

As mentioned above purchasing a Telfair Pass gained us access to The Telfair Academy, the Jepsen Center and the Owens-Thomas House all on one ticket. It was a great value!



Davenport House Museum




Another amazing historic home we visited was the Davenport House Museum. The property was completed in 1820 by Isaiah Davenport a young carpenter from New England who found success in Savannah. The Federal-style home gives a glimpse into domestic life and aesthetics from an earlier time with a collection of over 500 historic items and an excellent docent narrated tour. Our guide was actually a student not much older than our teens. He had an impressive wealth of information about not only the home itself but the era in which it was built. We found a deal for very affordable admission to the Davenport House on Groupon and children under the age of six are free.



Treylor Park


For our last night in Savannah we dined at the trendy Treylor Park restaurant. The tables are close and the room is loud but the food is fantastic! The quirky menu is full of comfort food with a kitschy twist and unconventional bar bites. We indulged in the peanut butter and jelly chicken wings, the grilled apple pie sandwich, loaded waffle fry nachos and deep-fried Oreos. The retro movies on the big screen kept our kids entertained and the friendly wait staff providing excellent service round out the many reasons we loved this unique restaurant.



DAY 4


Old Fort Jackson




Our last morning in Savannah, we made the two-mile trek from the city over to Old Fort Jackson. This beautifully preserved National Historic Landmark was built in 1808 on the banks of the of the Savannah River. We enjoyed exploring the ramparts and learning about the history of Georgia's oldest brick fortification. The highlight of our tour was the cannon firing and drill demonstration. The costumed-guide was full of fun facts and knowledge about the fort's active years. Our kids could have spent the entire time there playing with hoop and stick (who needs digital devices?) but alas it was time to head home.



Historic Squares




One more must mention thing to see in Savannah with kids are the historic squares. When Savannah was founded in 1733 it was America's first planned city. It was laid out on a grid system with 24 squares that function as peaceful public parks throughout the city. Each lush landscaped area is named after a significant person or event in history with statues that reflect their namesake and park benches perfect for getting some shade and taking a relaxing break for tired little feet.

Chippewa Square is one of the most popular as it is the setting for the great bus stop bench scene in Forrest Gump and it is also surrounded by historic buildings, but each square has something to offer. No visit to Savannah would be complete without stopping to enjoy a few.



That wraps up our whirlwind trip to Savannah with kids! If you're looking for a beautiful city that's as perfect for a family vacation as it is for a romantic getaway, Savannah should be at the top of your list.

Have you been to Savannah with kids? If so, let us know what you enjoyed most because we definitely plan to head back!

If you need more ideas for visiting Savannah with kids, check out the Savannah tourism page.
Want More Travel Goodness?


Subscribe to Mom Abroad to get the latest updates, giveaways, helpful travel tips right to your in-box! And join us on Facebook for regular updates and related articles and on Instagram to see what we are up to in photos.
Thanks for reading! If you enjoyed this article, please save it to Pinterest by clicking the 'P' button on any image.